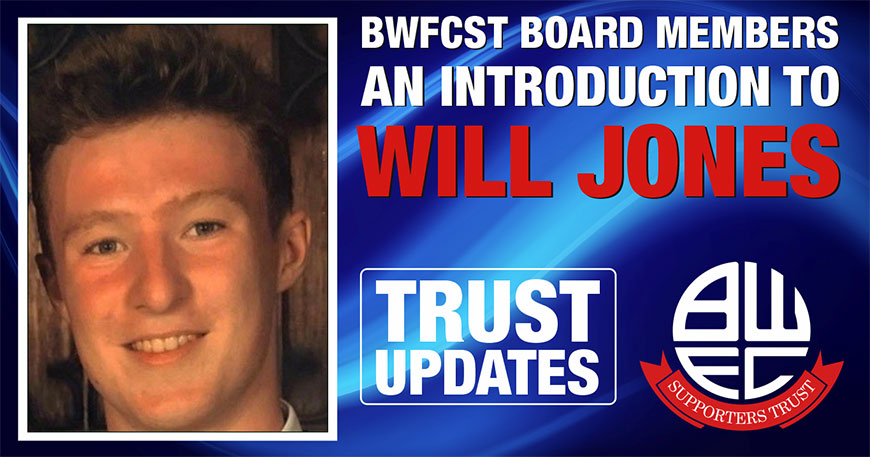 An Introduction to Will Jones
BWFCST Admin
Hello all, my name is Will Jones, a 20 year old Sports Media student at the University of Chichester, originally from the Ribble Valley, a lifelong Bolton Wanderers fan and most importantly, a new member of the BWFCST board which I'm delighted to now officially be a part of.
I want to begin by wishing everyone well during these unprecedented times, I want to echo recent updates by advising all to listen to government advice, stay safe and save lives by staying at home.

Whilst everyone's health is the present number one priority, I'd like to take this opportunity to express that becoming a BWFCST board member is something that I'm extremely excited about and I can't wait to make a positive impact for and within the BWFC community once this period of uncertainty has passed.

This desire to have a vested interest in the future of our beloved football club has developed since the Whites unfortunately experienced off the field difficulties which had a significant impact on me as a supporter encountering a sense of helplessness and I was desperate to help in any way I could to allow it to survive.

Since which, I quickly became recognised as being somewhat of a representative and a voice of/for the fans in the mainstream media, through well-known fan-site the Lion Of Vienna Suite, on social media and as an active member at open meetings which lead me to want to help to make a difference on a regular basis via the Trust's board, hence me being most grateful for my nominations and for being elected.

I'm excited to now be able to act primarily on behalf of the younger demographic who I feel have been overlooked to an extent in recent years and deserve to voice their concerns and have their opinions heard. I hope having a fresh, younger face on the board will not only provide stability for our longer standing supporters, but also inspire future generations to want to similarly make a difference through the influence, stature and solidarity of the Trust. I anticipate this will grow no end and subsequently allow us to continue to work closely with the club to create a sustainable future for years to come.

This, I assure you, will soon become a reality with the help of myself and the new board who are an excellent new team and, in each of our individual roles within the board structure (TBA), will provide you, the fans, with a brighter future for our football club.

Thank you for your time and I look forward to meeting all members at the pending AGM.