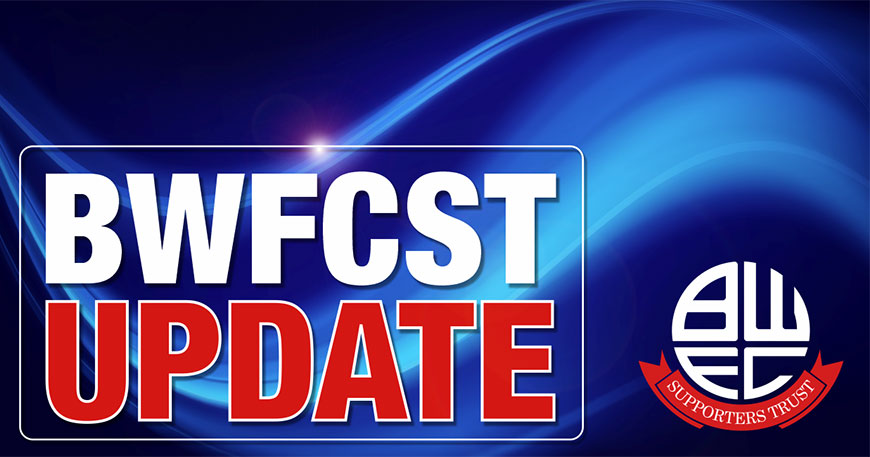 Email to Members – Update from the BWFCST Board
BWFCST Admin
When we wrote to you on 13 May '20 with our survey feedback, we signposted that we had reached out to FV on behalf of those fans who were willing to decline refunds for games not played. At the time of writing this email, we are still waiting to hear from the club what the policy will be and to understand how the process for issuing refunds to those fans wanting them will work.
We also recognise there is still an important decision for the EFL to make about the 2019/20 season and once that decision has been communicated, we will continue to engage with FV on the specifics of season tickets, as well as on the future plans for BWFC – something you told us loud and clear in the survey you wanted to know more about, and see evidence of that dialogue. It is understood that the EFL will today be announcing a date when the League 1 clubs can vote on how this season is to be concluded.
In the survey, 2/3rds of those who participated told us they felt that professional football will need to change as a result of the current crisis. How football is saved, including changes in both the short and longer term and how it is governed in the future, is the subject of much debate in the press currently. If you haven't already seen it, Damian Collins, MP and former chair of the Digital, Culture, Media and Sport Committee, released details of a proposal on Friday 22nd May (with input from the FSA) on how to help EFL clubs through the COVID-19 crisis, alongside mapping a path to improved regulation within the game.
As a summary, Collins proposes a bailout for clubs who need it – but they don't get something for nothing.
He writes:
"In return, a Football Finance Authority (FFA) would be created by the FA and backed by government funding. The FFA could provide finance to clubs to help them meet short-term operational liabilities but could not be used for transfers or infrastructure spending. The FFA would include representatives from clubs, players, and fans.
The funds would be exchanged for minority shareholdings of between 10% to 49% and independent directors would be appointed to club boards. Supporters' trusts may be the nominating body and the director would be subject to approval by the FFA.
These independent directors would then have a responsibility to report back to the FFA and they would have the power to place clubs who continue to break financial rules into administration.
A local supporters' trust can then be invited to purchase the shareholding at a reduced rate, repaying public investment and moving the club towards a shared fan ownership model.
The core proposals are in keeping with FSA beliefs – supporters should be at the heart of governance change, fan ownership is a realistic aspiration at many clubs, and that the FA has a role to play in protecting our historic clubs."
Collins goes on to acknowledge that "football now has a unique opportunity to reset and adopt new ideas, which not only secure the short-term future of clubs, but help them thrive in the seasons ahead," stressing that fans have a key role to play in football governance and ownership models.
How do you feel about that? As a board, we are keen to understand your views about Damian's proposal – let us know what you think by emailing your thoughts to us on This email address is being protected from spambots. You need JavaScript enabled to view it.
The full statement from Damian Collins can be read on the FSA website here.
Please stay safe – we are in this together!


BWFCST                                                                                                                                               27 May 2020