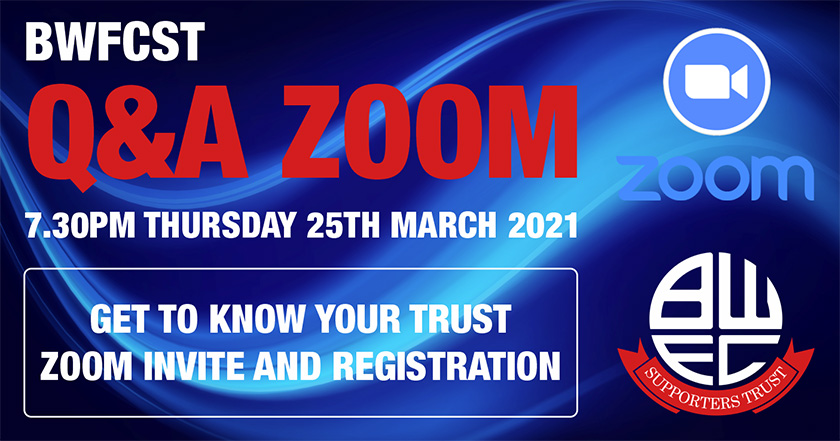 Join our Zoom Q&A and get to know your Supporters' Trust – Thursday 25th March
BWFCST Admin
We are holding a Trust Q&A at 7.30pm on Thursday 25th March. The event will be online, open to all and in a similar format to our recent AGM. If you would like you to take part, please register to attend by using the link below. Once you have registered, you will be sent further details of how to join the meeting nearer the date.
It is now five years since the Trust was established and on the back of our recent request for all members to re-register their details and to reinstate their annual subscriptions, many of you may wish to get to know more about the Trust. The evening will give all the opportunity to find out:
who is on the team
what we do on a day-to-day basis
what our objectives are
what we have achieved since inception
how we are working alongside the club for the benefit of BWFC
how to get involved with the running of the Trust
At our AGM held in January, we announced a partnership between the Supporters' Trust and the Development Association whereby 25% of all reinstated and ongoing subscriptions and all new membership subscription fees would be donated to the Development Association. This is part of our ongoing collaboration with the club and as endorsed by COO Andy Gartside in their recent news release which you can view here.
The event will be open for all and there will be an opportunity to ask the Trust team questions on the evening by using the Zoom chat function. As this format may not suit all, we would also like to ask for questions to be submitted ahead of the evening by forwarding to us on This email address is being protected from spambots. You need JavaScript enabled to view it..
We hope that you will be able to join us for what we hope will be an informative evening.
https://zoom.us/webinar/register/WN_gznw1tVLRL67zLgnayusvA
Thank you for your support!