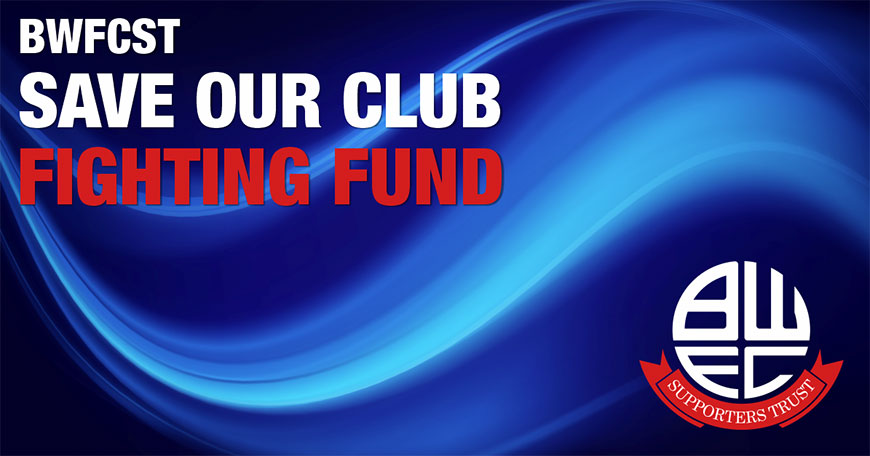 SAVE OUR CLUB – LAUNCH OF FIGHTING FUND
BWFCST Admin
Update on Appeal
Further to our announcement yesterday in which we appealed for supporters to register interest in a share issue in the Bolton Wanderers Supporters Community Interest Company (BWSCIC), we are massively encouraged by the passion and enthusiasm being shown for such an initiative, with many registering interest and support.
As Wednesday's hearing comes ever closer, we are now in the process of launching a Fighting Fund crowd-funding page which we are looking to have online in the next 24 hours. The purpose of this Fighting Fund will be to raise emergency and immediate funding to cover the associated costs that will arise in the Supporters' Trust dealing with an administration of the club.
This fund will cover legal costs, contribute to any shortfalls in funding an administration and to cover costs that will undoubtedly be incurred in making representation to the EFL in the event that they look to impose any unfair penalties as a result of recent events. This will be vitally important in looking to next season and the start of the BWFC rebuilding exercise.
For the avoidance of doubt, any contributions made towards the Fighting Fund will be completely independent of the BWSCIC planned share issue which we are developing at this very moment. Further details of this share issue will be announced over the next few days, but contributions to the Fighting Fund will not include any shareholding in the club. Use of the Fighting Fund will be carried out at the absolute discretion of the BWFCST board.
We will be looking to update on a daily basis as the future of OUR club unfolds. Please help wherever you are able and let's work together in ensuring BWFC are in a better position to face League 1 this coming August with a new owner and a realistic and affordable business plan.