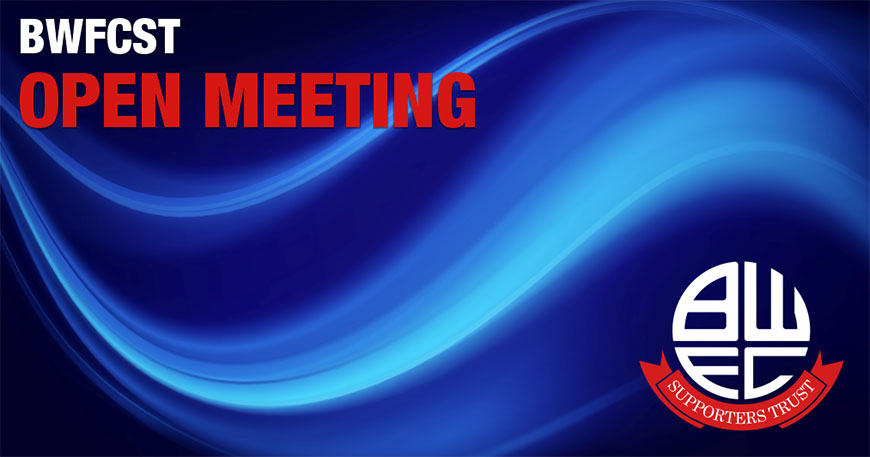 Format for Open Meeting
BWFCST Admin
Ahead of the Open Meeting on Monday, the following is intended to give those attending an idea of running order:
1.0 INTRODUCTIONS
* Purpose of the meeting
* Brief introduction of all parties represented at the meeting
* Apologies from those invited, but not attending
2.0 CHAIR'S OPENING STATEMENT
* Current understanding of status of club ownership
* Review of actions already undertaken to address the situation
* Trust role in any administration event
* Community Interest Company – status and purpose
* BWFCST engagement with stakeholders to date
3.0 OPPORTUNITY FOR STAKEHOLDERS IN ATTENDANCE TO ADDRESS THE MEETING
* Stakeholders in attendance
* Statements from stakeholders not in attendance
* Questions from the floor to stakeholders in attendance
4.0 UPDATE ON MEETING WITH EFL
5.0 GENERAL QUESTIONS FROM THE FLOOR

We have confirmed attendance from Bolton Council and Supporters Direct and we will confirm others planning to attend over the weekend.

The event will be hosted by Radio Manchester's Jack Dearden, with Super John McGinlay also in attendance.

Please come along and express your opinions about the future and direction of YOUR club and show the next owner how much BWFC means to you.

You can register for your free ticket at Eventbrite on this link.

Numbers are limited so please make sure you reserve your place.

BWFC needs you!