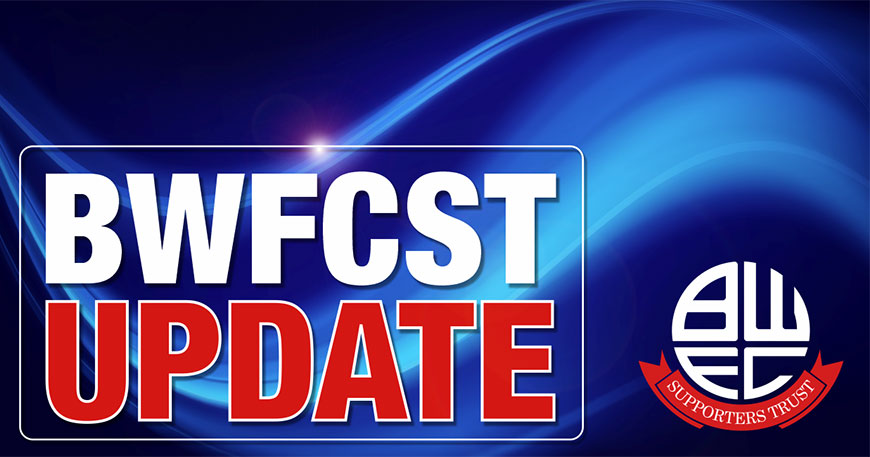 Statement from BWFCST Board
BWFCST Admin
All Bolton Wanderers fans and the wider Bolton community are naturally extremely concerned as the ownership of our club is still unresolved and the season just over two weeks away.  Our story has been widely documented and as all will now be well aware, this is a hugely complex situation.
We have been working hard behind the scenes with our legal representatives, Verisona Law, since the administration process was triggered to engage and maintain dialogue with all parties involved in this process including Football Ventures, Rubins, Quantuma and the EFL and to seek updates and clarification on progress of the sale of both the Club and Hotel and the points deduction which the Trust would like to challenge on behalf of the club and the new owners.  For a variety of reasons, including confidentiality agreements being in place, information has been difficult to obtain, but we will continue to ask.
It is again distressing to hear of the cancellation of the Chester game and the statement issued yesterday afternoon by Paul Appleton (Rubins) attempts to give some update as to the ongoing delays.
We would, however, endorse the words at the end of Mr Appleton's statement which are:
"Football Ventures' ownership model, one supported by the EFL, is based on a deal for both the club and hotel, so I would encourage all parties involved to act swiftly to ensure the pressing timeframe for completion is met.
I would implore everybody to drive through this deal and ensure this great football club is restored to its rightful position."
Time is very much of the essence and we would urge all parties to look to the greater picture and put the very existence of BWFC at the heart of their negotiations.